Supported Decision-Making
for Youth
Becoming an adult is an exciting time but there can also be challenges that leave you feeling unprepared. Supported Decision-Making helps you choose where you want help, build on your strengths and find committed people to help you take charge and lead your own life.
Why Does Supported Decision-Making Matter?
For most people having choice and control over their daily lives is deeply important, but many people with disabilities don't have access to making everyday choices and decisions. Supported Decision-Making offers an opportunity to change this reality. People with and without disabilities can get assistance making decisions about health care, life choices, and financial matters without giving up their rights to be in control of their lives.

When individuals with disabilities direct their own decision-making process, they gain confidence and become better advocates for themselves and others.
Having their preferences and right to make decisions on an equal basis with others recognized allows people with disabilities to make social connections, increases self-esteem, self-worth, and allows for personal growth, development, and rich life experiences. Supported Decision-Making creates access for people with disabilities to direct and lead their own lives in their communities.
What role will my parents or guardians play?
It is important to keep in mind that parent/guardian and supporter are two separate roles within Supported Decision-Making. Parents and guardians have a specific set of responsibilities while supporters have another. It can be hard to know the boundary between the two, check out this graphic explainer to learn more.
When we are young children our parents make decisions for us. They might give us choices or ask our opinion but they have the final say and take all the responsibility. As we grow up we may get to make some decisions on our own but our parents are still in charge and responsible for our actions. But when we are getting closer to being adults, this begins to change as we learn the skills to become our own decision maker.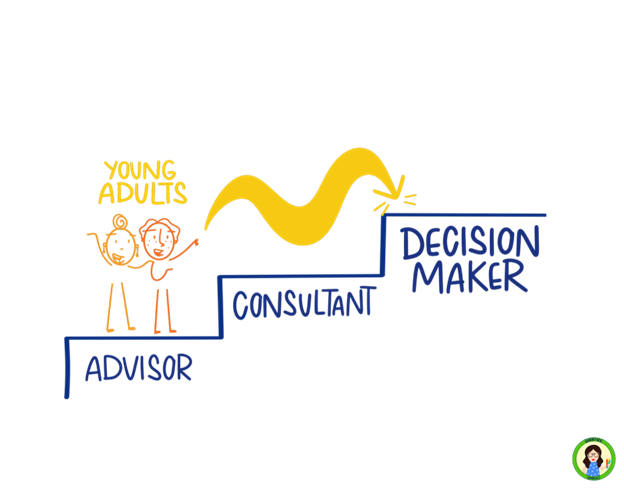 Your parents or guardians have likely been in the role of decision-maker for most of your life. As you move towards adulthood and become your own decision maker, it becomes time for them to transition into an advisory position. Learning and practicing these new roles can be challenging for all families, but this change will not happen all at once. You can prepare by learning decision-making skills and practicing supported decision-making.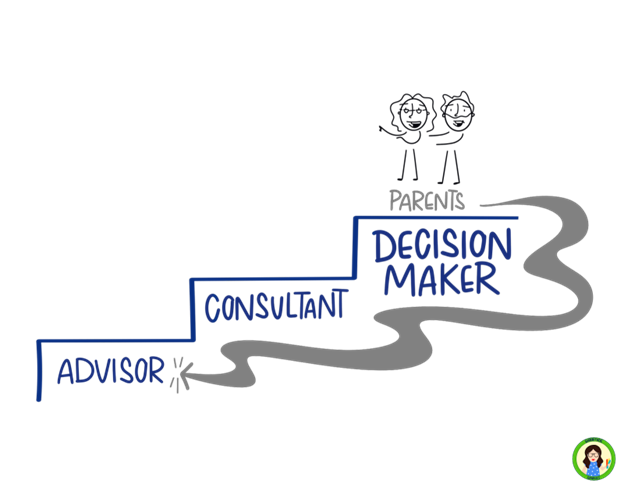 As you are becoming an adult, your parents are transitioning too. They will always be your parents but their responsibility is changing. Instead of being the decision maker for you, your parents are becoming supporters; people who you trust and know you well that can help you make your own decisions. They will give you advice, answer questions, and remind you of what may happen based on your choices. Your parents are stepping out of the decision-maker role so you can step into it.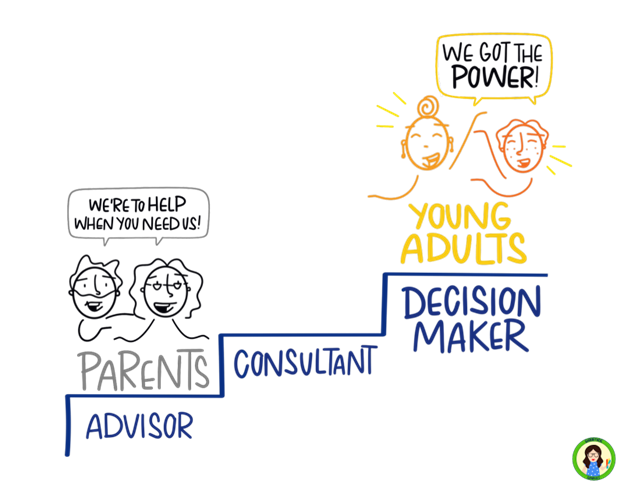 Becoming the Decision-Maker!
When you turn 18 the law recognizes you as your own decision maker. It is important to learn and practice decision-making skills so you are best prepared for this responsibility. Even with practice most people still need support. You can choose supporters, like your parents, to keep helping you, but now you are the person making the decision. As you make more and different decisions you will gain more skills and become an even better decision-maker.
How do you choose your supporters?
Learn how you can choose the right people to help you make independent decisions in your life.
Ready to get started with our guide?
Are you ready to start the Supported Decision-Making process? Click here for our in-depth guide!
Georgia is a part of a National Community of Practice and Member of the Center on Youth Voice Youth Choice. The Center's goal is to advance Supported Decision-Making and train youth to take charge and lead this movement. Youth Ambassadors participated in an in-depth training program to gain leadership skills and learn about alternatives to guardianship.